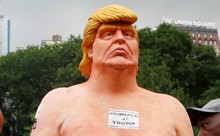 RESIST DAY #98: What You Can Do Today

More
Pink Out Day for Support for Planned Parenthood. #IStandWithPP
The archives pages include:
Imgur photos account contains many images generated by this website over the years in expanding the reach of Somali studies and promoting sustainable development.
This page on Imgur site contains horrifying news. Shocking data is coming out of Somalia concerning not just the death toll due to hunger in the drought-turned famine, but also due to horrifying cholera outbreak. A total of 12 provinces out of 18 countrywide have confirmed cholera outbreaks.In Apr 13, 2017, the World Health Organization said a cholera outbreak in Somalia has grown to more than 25,000 cases this year alone and is expected to double by the end of June.
In the fall of 2016, when a drought turned into a growing famine amidst the ongoing war against the terrorist group al-Shabaab, a new disaster began: a cholera outbreak that daily news articles are reporting thousands of people are contracting this disease and will likely continue to sicken people across the country.
Cholera, as the indicated EMRO.WHO report has explained, is an infectious disease that causes severe, watery diarrhea. Cholera is transmitted by water or food that has been contaminated with infective feces from affected victims. The illness causes dehydration and can lead to death, sometimes in just a few hours, if left untreated.Unlike other diarrhoeal diseases, it can kill healthy adults within hours, in a population of individuals with lower immunity, with a high proportion of infant deaths, poor nutrition, and frequent infectious diseases such as measles infection, tuberculosis, and malaria.
Before 2016-2017 famine, cholera had been common in Somalia for decades. And the impoverished, famine-devastated country was already struggling with water and sanitation issues in largely stateless society due to state collapse in 1991. Death rates among Somalis infected with cholera now reach 14.1 percent in Middle Juba and 5.1 percent in Bakool, with Baidoa its centre of cholera outbreak, according with WHO.
This epidemic reflects the lack of access to basic health care because of cholera's simple treatment of rehydration therapy. Improving global access to water, sanitation and hygiene (WASH) is a critical step to reducing Horn of Africa's cholera burden. An estimated 3-5 million cases and over 100,000 deaths occur each year around the world, according to WHO.
Aid agency health officials since January have been providing patients with medical supplies and clean water, and instructing others on how to recognize the symptoms of cholera. Health workers are providing intravenous drips to rehydrate patients, because one of the main symptoms of cholera is dehydration.
In consequence, it is of paramount importance to be able to rely on accurate surveillance data to monitor the evolution of the outbreak and to put in place adequate intervention measures as indicated by WHO. The risk for transmission of cholera and many other similar diseases can be greatly reduced by disinfecting drinking water, distributing water purifying tablets for use in homes throughout Somalia, and separating human sewage from water supplies, and preventing food contamination.
Furthermore, health authorities should educate the population members to protecting themselves such as to boil or chlorinate their drinking water, promote handwashing and proper sewage disposal, for example, burying human and animal waste. The government and the donors can broadcast mass media messages, displayed banners, and sent text messages encouraging the population to boil and chlorinate drinking water and seek care quickly if they become ill. Read posted articles

4/21/2017. Somaliland editor detained after trading himself for colleague's freedom

4/8/2017: Somaliland journalist sentenced to 2 years in prison (Associated Press)
It's worth remembering that during the last famine in 2011-2012, around 250,000 people died. Today, the Somalis are facing a much worse famine than ever plus a cholera outbreak. It's about time to prevent these tragedies by holding the so-called leaders responsible for these man-made famines.
In these news updates, I post all kinds of headlines and titles published on the Horn of Africa and on the Somali diaspora. Although Somaliland is politically distinct from neighboring countries, nevertheless there are many issues the entire Somali region as a whole shares due to ecology, culture and history. For example, Somaliland shares with Somalia and other neighbouring countries many challenges and issues, including recurring drought, famine, militant terrorism, internally displaced refugees, climate change, charcoal use and its export which is now banned by the UN, human trafficking 'tahriib', illegal fishing, waste dumping and piracy, remittances 'hawallas', FGM and many others. After the initial posting, some of these links are available in the News archives.
---
That freedom shall not perish....
Please contact CPJ, Reporters without Borders, IFEX, Article 19, Human Rights Watch and Amnesty International if you know a journalist in jail or injured. To benefit an informed public, in an information age, in an open economy and in a democracy, citizens should fight for both. In Somaliland, read more:Freedom of press in Somaliland and Hubaal and Haatuf's forced closures
An Aggressive Free Press is the Only Check on Abuse of Power. Fight for Your Right to Know. Free Media Cannot be Silenced. Democracy Dies in Darkness.
---

Read more:Sustainable Development Issues and Readings II

"I would rather open my mind with wonder ...than close it with belief."
"Love all, trust a few, do wrong to none." - William Shakespeare, Entire play.All's Well That Ends Well.
---

This site has been providing breaking news & views since 1996
Honouring the Past
Enriching the Present
Inspiring the Future

Bookmark This Page by clicking Ctrl-D keys.

As a member of Dailykos progressive website, the following include some published Op-ed articles on U.S. and Somaliland progressive issues:
1. What to Do to Mitigate Looming Climate Change: 10 Specific Policies
2. How to Make the Corporations and the Wealthy Pay More Taxes
3. Voter Suppression: The Republican War on Voting Rights
4. How Senseless, Triumphalist Militarism Is Destroying America.
5. Ex-Muslims' Islamophobia: Few comments on the case of Ayaan Hersi Ali
6.Agenda for Social Development in the 21 Century: General reflections
---
See Google translations of this website into over 25 languages: Hover over this image to see the list: Note- Translation may take a moment to load.
General news links
---
Feedback form (Your email address will not be published.) No spam, please)
Copyright © 1996-2016. All rights reserved. Somaliland Cyberspace.com has been providing breaking news & views since 1996. We are independent, non-profit, and advertising-free. Not affiliated or endorsed by any website or government.All non-original content used under Fair Use. Except where otherwise noted, content on this site is licensed under a Creative Commons License, which permits unrestricted use, distribution, and reproduction in any medium, provided the original work is properly cited. All marks are the property of their respective owners. This page delivers facts without any opinion or bias, so that the viewers can form their own opinions on national and world events. The views expressed in the linked articles are those of the authors, not this website. This page is not responsible for the content of external sites. We select links that are editorially relevant to the content they are linking from and are suitable for the likely audience. We link to sites purely on editorial merit. These will most often be free to access, but users may sometimes be asked to register or subscribe before viewing their content. On images, Somaliland cyberspace claims no credit for any images posted on this site unless otherwise noted. Images on this blog also are copyright to its respectful owners. If there is an image appearing on this page that belongs to you and do not wish for it appear on this site, please E-mail with a link to said image and it will be promptly removed. Finally, the archives here include the previous domains: http://www.anaserve.com/~mbali. and http://www.mbali.info/ websites. Questions or comments? E-mail contact: moebali@yahoo.com.Or use the comment form above.
---